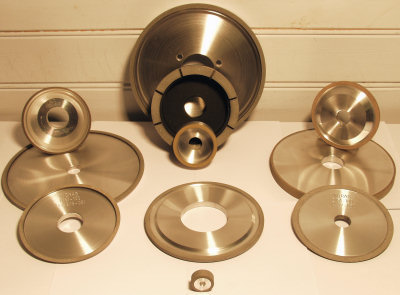 About Northern Abrasives Ltd
As the UK distributor for Kinik we supply a complete range of abrasives including vitrified bond, resinoid bond, rubber bond, magnesia oxychloride bond..
Diamond Wheels, Tools, Files, dressers & Compounds
Diamond and CBN (Cubic Boron Nitrate) have similar characteristics both superior to conventional abrasives, providing high hardness, strength, thermal conductivity and wear. Super abrasive bonded systems include metal, Resin and Electroplated bonds. Diamond it is ideal for grinding hard brittle materials such as glass, ceramics, carbides, quartz, ferrites and other materials including fibre glass and semiconductor materials.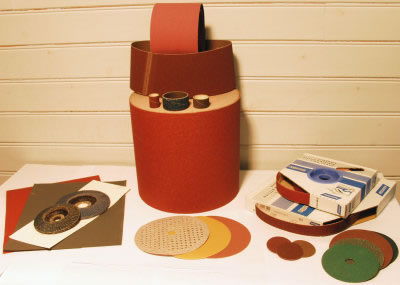 Coated Abrasives
A complete range of sanding belts, discs, rolls, sheets, abrasive sponges and flap discs and wheels for stock removal for cleaning, polishing and finishing. Belts can be made to your requirements, in backing materials of Cloth & Paper, in abrasive to suit all materials (Steel, Cast Iron, Wood, Plastics, Ceramics and Pottery).

Grit size start at 16's grit, being the coarsest, to 1000 grit the finest.
Rolls
Rolls are made in various widths from 13mm to 1500mm and in lengths from 1m to 50m. Rolls are available in Cloth and Paper and in different types of abrasives to suit all materials to be sanded.

Grit size start at 36 grit up to 1200 grit.
Sheets
Cut sheets are available in Waterproof Paper, Paper and Cloth, paper being the most common. The most common size of sheets are 115 x 280 and 230 x 280, but virtually any size can be made.

Grit size start at 36 grit up to 1500 grit.
Discs
Discs are available in Cloth, paper and Fibre backed products. Sizes start at 20mm to 760mm diameter. Discs can be made with or without holes, and with self adhesive or Velcro backing.

Grit size start at 16's grit up to 1200 grit.
Grinding Wheels
Northern Abrasives supply more than 250,000 types of grinding wheels, to suit all grinding applications and materials to be ground.

Sizes range from 10mm up to 1500mm diameter wheels, in a wide range of abrasive materials, to give you the best possible choice!

The Grinding wheels we offer cover the full range of grinding operations, i.e. Internal, Surface, Cylindrical, Centreless, Toolmaking, Roll Grinding, Saw Sharpening and Off hand tool sharpening.
Diamond Tooling
Single Point Dressing Tools: Suitable for truing and dressing grinding wheels and producing minor forms, also used for dressing control wheels. Supplied either as a consumable or resettable type in a wide range of selective grades to suit any particular application.

Blade Dressers: Supplied as a single or multi layered tool utilising a variety of different types of diamonds to suit various dressing operations. Used for both straight and form dressing.

Agglomerate Dressers: Used for straight dressing as an economical alternative to single point and blade dressers. Especially ideal for the more aggressive and heavy dressing operations.

Multipoint Dressers: Supplied as a single or multi layered tools utilising small octahedron diamonds. Used for straight dressing applications. Ideal for rough dressing and especially useful for clearing heavily loading grinding wheels.

Monocrystal Blade Dressers: Used for straight and form finish dressing on precision applications and excels where high tolerance finishes are required: especially suited to CNC grinders.

Chisel Tools: Supplied as standard or heavy duty. Used for producing a variety of forms and radii in grinding wheels.

Cone Points Utilised for specialist form dressing operations in soft wheels or internal grinding wheels where chisel or blade dressers cannot be used.
Contact us about your requirements or request samples. Call +44 (0)161 748 6553, Fax: F: +44 (0)161 746 8441 or eMail norab@dial.pipex.com